Welcome to Sunroom! 🎉 We are so excited to start working with you! Here's what you can expect when you partner with us as a realtor, brokerage, or property management company. We'll take you through the process from when you sign up as a partner to when you get the lease signed and a new tenant has moved in. You can click on any section from the Table of Contents to learn more about that specific part of the process.
Get to Know Your Account Manager
Sign up to be a Partner
Sunroom partners with realtors, brokerages, and property management companies across Texas as their operational leasing arm. We currently serve in the Austin, Dallas/Fort Worth, Houston, and San Antonio markets.
It's always free for a new partner to sign up. When we work with partners to lease properties, we share a cut of the first month's rent commission. Commission sharing only happens after a lease has been successfully completed. Read more about the different options you have to work with Sunroom>
When you partner with Sunroom, you always get a full range of leasing services and benefits:
Dedicated leasing manager
Property review for readiness
Free yard sign installation (optional)
Free Sunlock installation for self tours (optional)
Free professional photography and editing (optional)
Marketing property to 40+ listing sites, including MLS and ZiIlow
Property tours
Working renter leads 7 days/week
Branded partner portal and app
Real-time stats and tour feedback
Lease drafting
Application processing
Tenant screening
Security deposit collection
Tenant move in
Download the Sunroom App for Realtors
We created the Sunroom app for realtors who are always on the go. With the app, you can submit a property to be listed straight from your phone - it only takes a few minutes! You'll also get real-time updates on property setups, when your listing goes live, new leads, tours completed and tour feedback, and be able to review and approve qualified applicants we send you.
Download the Sunroom app here>
Learn your way around the Partner Portal
Your partner portal is where all the action will be. Most everything you do with Sunroom is done through your portal - from submitting a property, to setting renter criteria, checking in on listing leads and tour feedback, and reviewing and approving applicants.
You can access your partner portal from the app or from a web browser. Please email or call your sales contact if you would like a tour of your portal. You can also watch a recorded version here >
Get to know your account manager

You get a dedicated account manager assigned to you as soon as you sign up as a Sunroom partner. They are your personal resource throughout the entire Sunroom leasing process. Please contact them directly if you have questions or concerns. Your account manager and their contact information will be listed prominently in your partner portal.
Submit Your First Property
It's simple to submit a property with Sunroom. Click the green 'Market Property' in your partner portal. We'll ask you a series of questions about how you want to work with us and information about the property. This should only take a few minutes, and it's much easier to fill out than it is on the MLS.
Once you've completed the questions, you're done! You will see the property show up in the 'Going to Market' section of your partner portal. From there, the Sunroom team goes to works to get the listing live.
Read more about what happens after you submit a property>
Sunroom Sets Up Your Property
Sunroom sets up all of the marketing items and locks to get your property ready for listing and renter tours. Here are the marketing items we install:
'For Rent' sign (optional)
Sunlock (optional)
Combo lockbox
Supra
Read more about how property access changes after setups>
Track listing stats
Once your listing goes live, you'll be able to track the number of leads and tours completed at your specific property in real-time. You will also be able to review any tour feedback.
Read more about how to interpret the stats on your listing>
Review and approve qualified applicants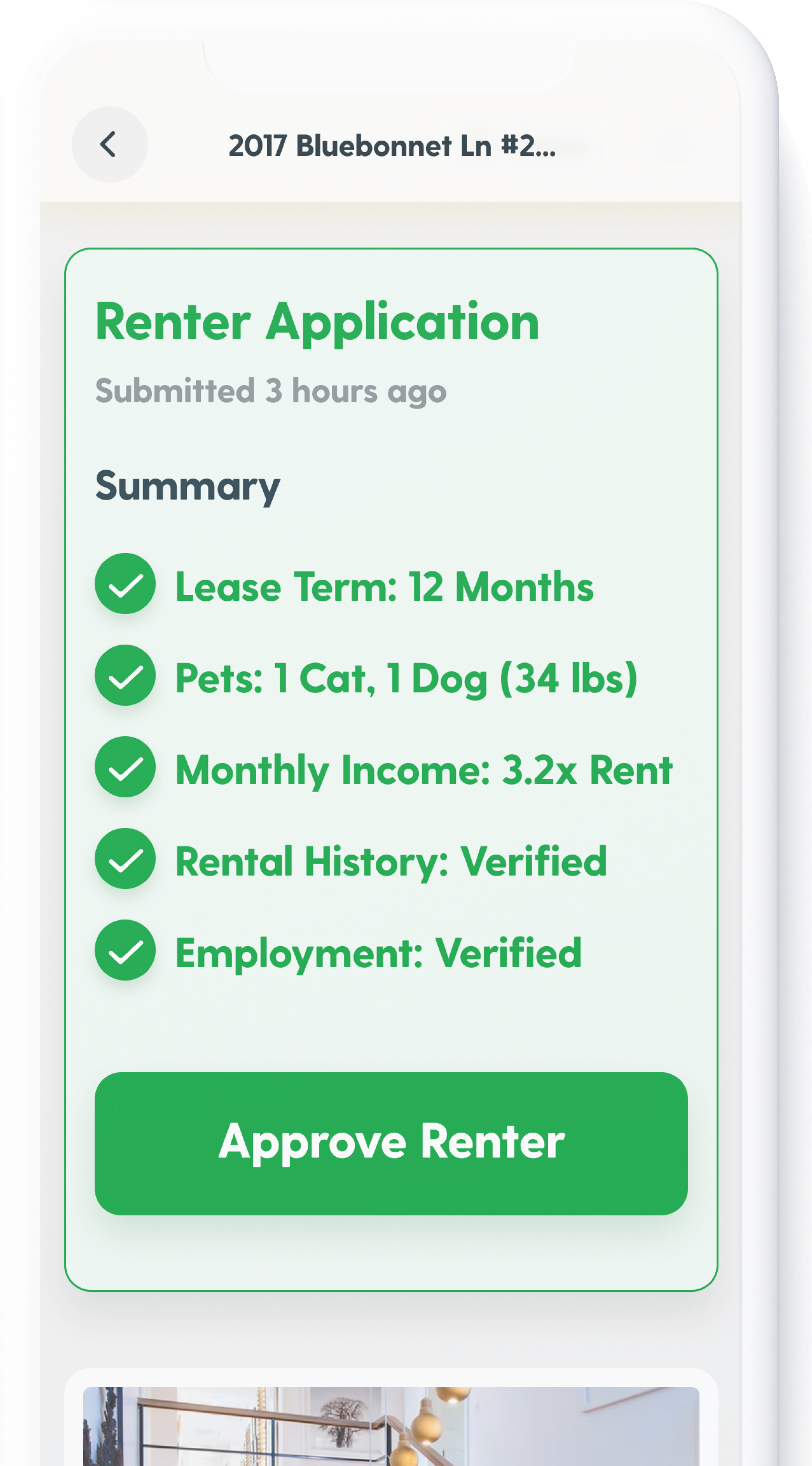 Sunroom is always working your renter leads, encouraging them to tour, give tour feedback, and apply quickly if interested. Read more about how we work renter leads here>
We know finding a quality renter who pays on time is top priority for our partners. Sunroom upholds a very thorough screening process using renter criteria you set to find you the best renters possible. We While our team processes applications and screens applicants, you and your client have control over which applicants you approve or deny.
Read more about how we process applications and send for your review>
Sunroom gets the lease signed and coordinates move-in
Once you approve a renter, Sunroom will kick off the lease drafting and signing process. We also collect security deposit and coordinate move ins with the new tenant.
Read more about what happens once you approve an applicant>
How Billing Works
We keep it simple when it comes to billing. The Sunroom billing process is different based on how you submitted the property for market, and if you chose to 'Stay Involved' or 'Take Me Out of the Process'.
Read more about how billing works here>
How we keep you updated

We want to make sure you know what's happening with your listing at every step of the process. We have multiple ways we keep you up-to-date.
Emails
Texts

Push notifications in the Sunroom app
You can expect notifications at every important step of the way.
That's Sunroom in a nutshell - We're excited to work with you!