You just submitted a listing with Sunroom - congrats! 🎉
In this article, we'll take you through what happens after you submit a property through Sunroom. You can always log into your partner portal in the app to see what's happening now and what happens next.
You can click the links below to jump to specific sections in this article:
We know that there can be a lot of people involved in getting a property ready for a new lease. Sunroom has a streamlined process to make sure that everyone who should be kept up-to-date with what's going on is notified promptly. We guarantee that we will treat your clients, current occupants, and anyone else involved with utmost respect and professionalism.
Following the Go-to-Market Card
Once you submit a property, it will show up in your partner portal under the 'Going to Market' section which looks like the image below. You'll notice that each property has it's own card with a checklist of what happens next.

Photo: All of your properties in the Going to Market section of your partner portal
1. Submitted for Marketing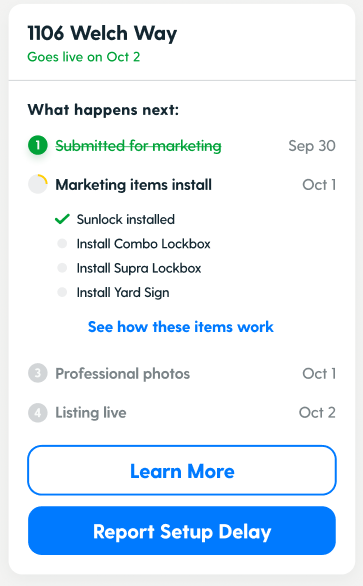 Photo: What your property card looks like in your partner portal when you submit it to Sunroom for marketing
The first line on the card will automatically be checked off, because you just submitted the property! Here's what you can expect to happen next.
If this is your first listing with Sunroom, you will be connected with your account manager. Every Sunroom partner is assigned a dedicated account manager to help them through the entire leasing process. Your account manager will introduce themselves and confirm that we've started working on getting the property ready.
If this isn't your first listing, we start reviewing the details of the listing and kick off the set up process. We will reach out if we have any questions during this step.
2. Marketing Items Installed
Photo: What your property card looks like in your partner portal after we've installed the marketing items
The set-up process to get a listing ready for renters to tour depends on what you selected during the submission steps. Whatever you choose, Sunroom will handle everything. All you need to do is provide a key for us at the property.
What marketing items Sunroom will install:
Combo lockbox

Supra for buyer agents

'For Rent' yard sign (optional)
Every Sunroom yard sign we install is a colonial post sign and has a custom url made specifically for your listing.
Photo: A yard sign with custom url installed by Sunroom
We will install most marketing items and equipment (except Sunlocks) whether a tenant is there or not. We will only install Sunlocks when a property is vacant. We will tell you in advance when we plan to go to the property to install marketing items and equipment. If there is a tenant at the property, you or your client will be able to notify the tenant when we'll be there. We want to be mindful of current tenants and make sure we treat them well. Our goal is to get the job done fast without ever needing to bother them.
We will also notify you when each step of the set up process has been completed. You can check your portal and email for updates on when the installer is scheduled to arrive, when they arrive, and when the task has been completed.
Note: If we send an installer to the property and they find that it's not ready for lease (ie: needs repairs, needs to be cleaned, etc), we will notify you and/or your client immediately with action steps needed. The setup will be held until the issue is resolved.
3. Professional Photos
During the property submission process, you can choose if you'd like us to take professional photos or if you'd like to use your own. Our photographer uses professional equipment and edits them completely free of charge to you. If you decide to use your own photos, you will need to upload them in your portal.
You can give us the best date for us to take photos. You will need to provide contact info for the owner or current tenant so the photographer can coordinate access.
We take photos of the exterior, interior, every room, and all of the amenities of the property. We know how to highlight areas that will make the property look attractive to potential renters and help you get it leased.
You can request us to take 360 degree shots for 3D virtual tours for an additional charge. Ask your account manager if you're interested in having 360 views for your listing. If you have any Matterport photos or video, we can add them to your listing. Send them to your account manager.
We will compile the photos to get them ready for the listing. We'll make sure the best photos come first. You will see the photos on the live listing.
4. Listing live

Photo: What your property card looks like in your partner portal after we've taken professional photos and start working on the final tasks to take your listing live.
Now it's almost time for your listing to go live! We know a great online listing can get a property substantially more leads and tours, which is why we put in a lot of time, effort, and resources to make it stand out. We pride ourselves in having multiple people in the review process, reviewing 150+ datapoints about each listing, reviewing previous MLS listings, and reviewing details we get from the photographer to make it accurate.
Sunroom is responsible for all of the checklist items below. You will be notified via email and it will be updated in your partner portal when the property goes live.
Write marketing description
Optimize listing data
Arrange photos
Account manager reviewed
Syndicate to MLS and 3rd party sites
Connect Supra
Send renter marketing emails
Feature listing on Sunroom
Optional: Sunroom will run a CMA to confirm rental price
Ask your account manager if you'd like Sunroom to run a comparative market analysis (CMA) for your property. The most common reason for a property sitting on the market for a long time is when the property is priced too high compared to the market. If there is a large discrepancy in the asking price and the CMA, we will let you know and advise that you list the property closer to the current market rate.
Once the property is live, the property card moves to the 'Active Homes' section of your partner portal.
Photo: All of your properties in the Active Homes section of your partner portal
You can expect a turnaround time of 72 hours from when you submit the property to when it goes live. In your portal, you will see a 'promise date' in green for every property you submit with Sunroom. This is the projected date it will 'go live' and show up on listing sites.
Pro Tip: If you submit a property through Sunroom a few days before the property is available for set up, our set up team will have time to plan for the logistics and materials needed. Often we can set up the property and submit the listing to the MLS and other sites on the same date you told us it would be available.
Note: Some listing sites update almost simultaneously while some listing sites like Zillow can take up to 24 hours to update.
If you need to edit the listing or change the price, you can do that in your partner portal. In the top right corner of the property dashboard, click 'Edit Listing'.
Additional Questions
Q: How do I stay updated on the setup and 'go live' progress?
You can login to your Sunroom partner portal and see the status of any property you've submitted to us. You will also receive email updates at every step of the process, ie: when marketing items are installed, when photos are taken, when Sunlock is installed, etc.
Q: What happens if I want to hold or stop the set up and go live process?
There are two other states beyond 'going to market' and 'active'. If there's an issue we encounter during set up or if you choose to hold the listing, your property could also be in a 'Not ready to market' or a 'Temporarily Off-Market' state. Screenshots of these states are below. You will need to take action in these states to get the property active.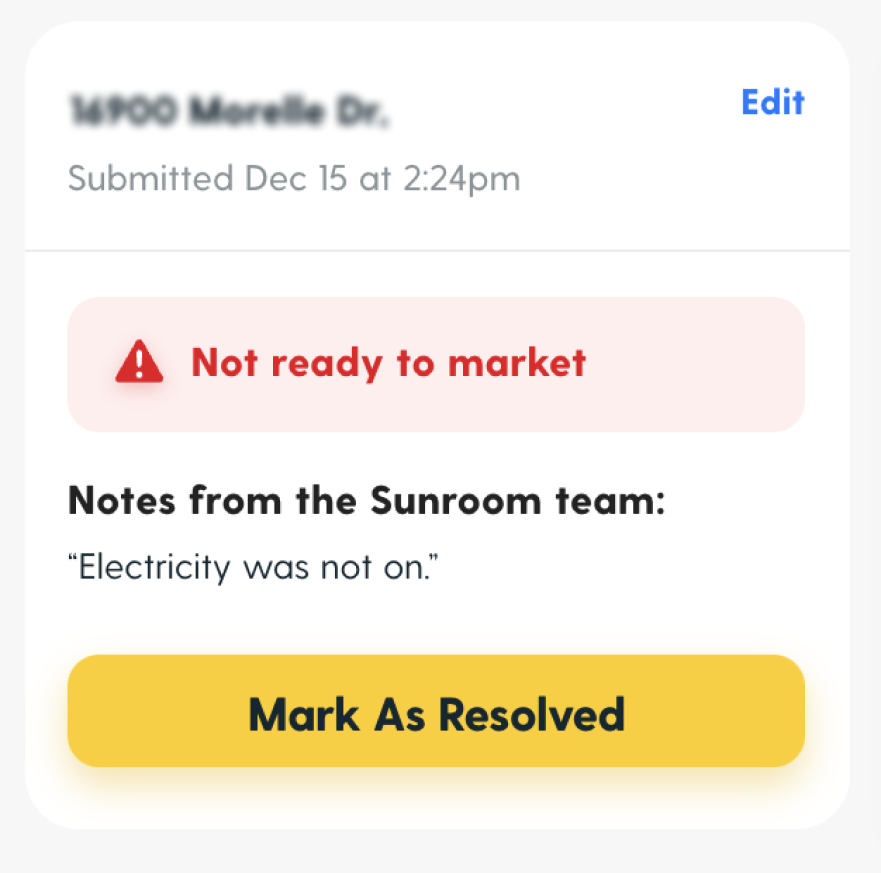 Photo: Examples when properties in your portfolio are in 'Temporarily Off-Market' or 'Not ready to market' in Sunroom
Q: Who do I contact if I have questions during the set up process?
Please contact your leasing manager who can answer any questions you have. If you click the 'Support' button in the top right menu of your partner portal, you will find your leasing manager's contact information.
Q: How does property access change after setup?
If you ask us to install a Sunlock for self tours, the owner's original key will not give access to the property while we're working on getting it leased. Read more about Sunlocks here>
No matter what you choose at setup, Sunroom will take care of the property like it's ours. There will be multiple ways for authorized people to access the property, and you will be notified immediately after we make any changes to the property. You can find the most up-to-date access information in the listing in your partner portal. (See what it looks like below.)
Read more about how property access changes when we set up a property here>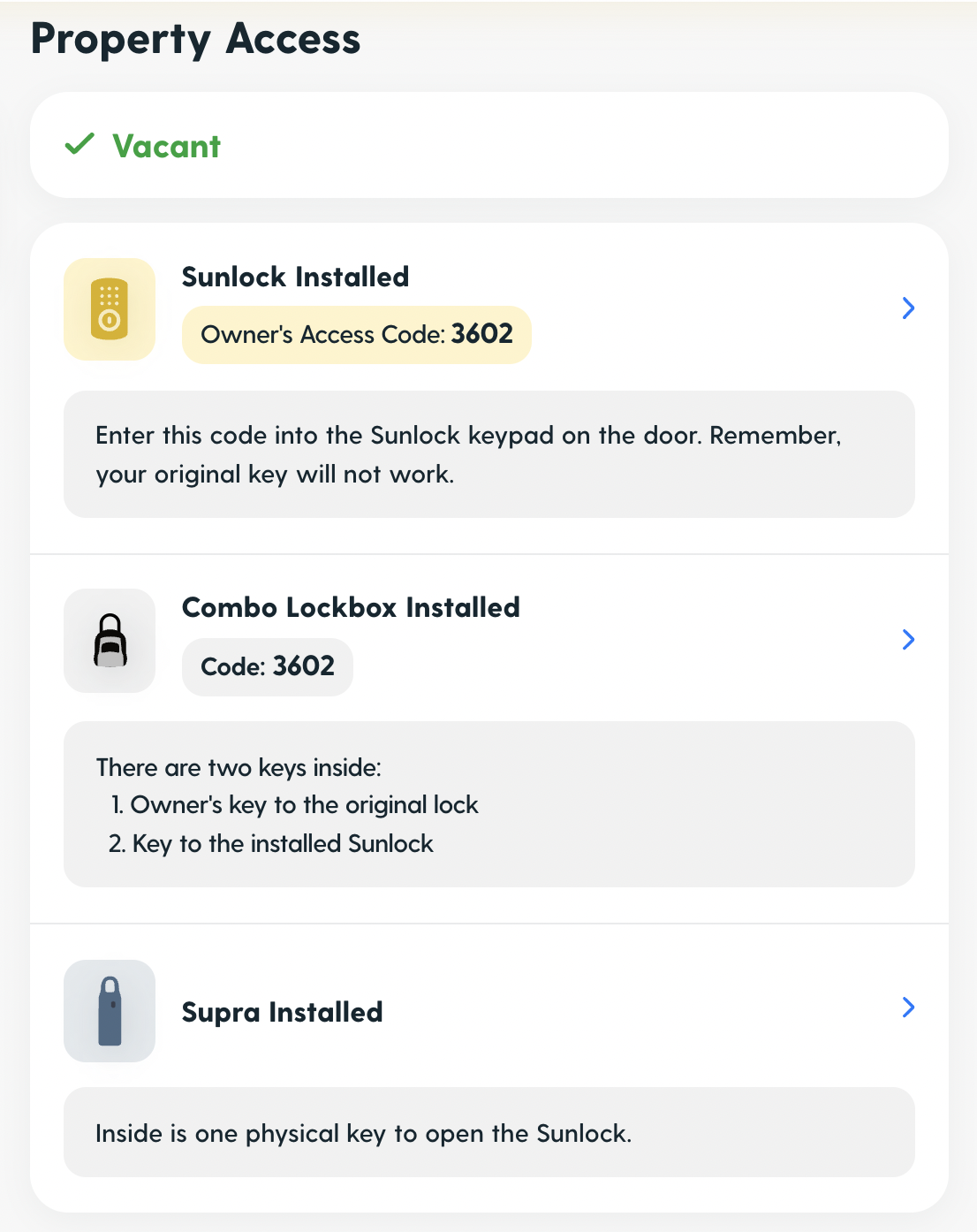 Photo: Access information for the property shown on the listing page in your partner portal
Q: Where is the property being listed?
Below is the complete list of sites we list your property on:
Zillow

Sunroom Rentals

Apartments.com

Facebook

HotPads

Realtor.com

Craigslist

Show Me The Rent

Abodo

Apartment Advisor

ApartmentLove

ClassifiedAds

Dwellsy

KeyLasso

Rent College Pads

RentalSource.com

Rentler

Uloop

Apartable

Apartment List

Attlus

CallitHome

CollegeHouse.com

EveryRent

ForLeaseByOwner

FRBO

Homes.com

Hunt

Lovely

PadMapper

RadPad

RealRentals

RentFocus

RentHop

RentLingo

Trintals

Trovit

Trulia

uCribs

UniversityParent

USA Today College

Walk Score

Zumper
Q: Can I review the photos or listing before its listed?
If you choose to have Sunroom take photos of the property, we send a professional photographer to take photos and to edit them. You can rest easy knowing the photos and the listing will be professionally executed and checked twice by our leasing team. This procedure enables us to work quickly to get a property live on the market. We typically do not send photos to be reviewed by partners before we add them to the listing. However, on request, we will send photos to you to review before they are added to the listing.